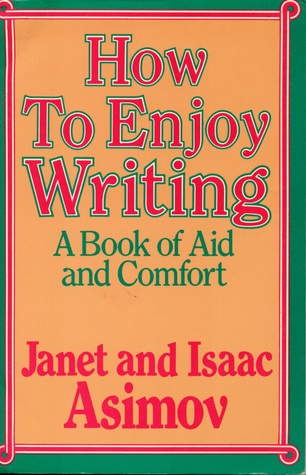 "Most writers think they can't start unless they have a big block of time. This is a mistake. Carpe Diem." Janet and Isaac Asimov
Let me think…, can I learn from a writer who created the term robotics, can I learn from a writer who at the time of publication of the book I'm reviewing had made nearly 2000 literary sales of all kinds, and can I learn from a writer who won over 20 awards for writing? Is it possible that I can learn from another writer who wrote a successful 11 book series of children's books? Okay, I'm still thinking hard…, but I think my answers are: 1. Yes. 2. Yes. 3. Yes. 4. Yes. 5. Yes.
Do you want to write children's books? There's a chapter in this book for you. Do you want to write science fiction? There's a chapter in the book for you. Are you interested in writing nonfiction? Yep! There's a chapter for you. My opinion—This book is for anyone who is interested in becoming a better writer.
Every must have book list for writers I've seen includes The Elements of Style by William Strunk Jr. and E.B. White. Have I read that book? Yes. Was it useful? Yes. Was it fun to read? To me, when it comes to fun, Elements of Style falls somewhere between hiking in a Redwood Forest in Big Sur, and being handcuffed to the exhaust pipe of a jeep that is dragging me down a gravel road! Do you want a book that will make you a better writer and that is fun to read? Please consider reading How to Enjoy Writing A Book of Aid and Comfort.

If you're reading this post, you're probably already a writer or are considering becoming a writer. I believe every chapter of this book is interesting, useful, and awesome! There are three threads that I think run through each chapter of the book and I'll discuss those threads first. The threads are—1. If you want to write, begin now. 2. If you want to write, write about something that you love. 3. The tools of writing are graspable by anyone and are fun to use. I'll also share what the Asimov's believe are the four main technical points about writing, and conclude by giving five super cool quotes from this book, that I believe you'll love. This book is worth reading for the quotes alone. (One entire chapter is nothing but great quotes.)
"If you do follow your bliss you put yourself on a kind of track that has been there all the while, waiting for you and the life you ought to be living is the one you are living. Follow your bliss and don't be afraid, and doors will open where you didn't know they were going to be." Joseph Campbell
"Human beings live longer and better when they enjoy what they do." Janet and Isaac Asimov
Follow Your Bliss
Isaac and Janet Asimov stress that if we want to become better writers, what we must do is get going and write! How do we know that we are writing about what we need to write about? According to the Asimov's, when we write about things we are passionate about our writing will be as natural as a bodily function. To write creatively, we don't have to live the stereotyped artist's life of misery and depression. (No one understands us, we're alone against the universe, we'll always be broke, and we'll always be miserable. Where's my morning Jack Daniels?) The excellent news, is that Janet and Isaac believe that the highest creativity is birthed by peace of mind not misery.
While the Asimov's believe we should embrace the joy of life, they have a strong punk rock ethic about one thing—Selling out! To Janet and Isaac, selling out means writing about things we disapprove of just to keep the dog and us fed! The Asimov's strongly suggest that if we are beginning writers, we should have a way to make money that is not writing. They say, a second source of income will greatly reduce our temptation to write about something we dislike. I believe Janet and Isaac are saying, let's maintain our street cred.
Writing Can be for Everyone
"…Writing time is simply thinking through my fingers." Isaac Asimov
Is writing easy? The Asimov's believe that some of writing is drudgery, but that most of it is pure joy! How easy is it to start the next great work of fiction or nonfiction? Think of a good opening and a good ending and then relax. 🙂 Having just that basic structure makes it easier for our fingers to write fast in our writing notebooks using our favorite pens or for our fingers to type away at our keyboards.
In my research about overcoming the fear of public speaking, I believe everything I've read has stated that the belief that our speeches must be perfect is a false belief that generates anxiety. Reality—The perfect speech has never been given! Janet and Isaac Asimov say we should also forget about perfection in our writing, and just start writing. Here's a summary of how the Asimov's believe we can know what to work on in our writing, "Per Bracken's rule, when you see something that should be done, do it at once." The Asimov's think it is very easy for us to know if something sounds right or wrong in our writing. Why? Because, each of us has spent a lifetime reading. (Hopefully, we've all spent much of that reading time reading great writers.)
Ringo, please give me a drum roll. Thank you! Now, here's what Janet and Isaac say is their best advice on writing—"Finish what you write…" It may be easier to finish what we write if we go over what the Asimov's believe are the four main technical parts of writing. Please move your eyes down a few pixels, and let's do this together!
Janet and Isaac Asimov's Four Main Technical Points About Writing
1. "Use strong words—Mostly nouns and verbs—not weak.
2. When in doubt, leave it out, especially adjectives and adverbs.
3. Show don't tell.
4. Plant it now, dig it later."
As I mentioned earlier in the post, I believe this book is worth buying just for the super cool quotes. Below are five great quotes from the book to give you an idea how quotable Janet and Isaac Asimov are, and how great they were in selecting great quotes from others!
Five Amazing Quotes and Thoughts to Hold You Over Until You Own This Cool Book
1. The Asimov's believe the best writers in the English language are Charles Dickens, Mark Twain, and P.G. Wodenhouse. (I believe reading great writers is The School of Rock for Writers.)
2. "…It is the business of the writer to hide the fact that writing is his business. Readers are not interested in the mechanics of authorship." A. A. Milne
3. "One of the things you have to cope with is that nobody understands writers. Not even other writers." The Asimov's
4. "Almost every writer, before he becomes a success, even a runaway supernova success, goes through an apprentice period when he's a 'failure'." Janet and Isaac Asimov
5. "The greatest pleasure in life is doing what people say you cannot do." Walter Bagehot
I am thankful that this witty and ultra-intelligent couple chose to share their wisdom about writing with us. One result of my reading this book is, it made me wish I had known Janet and Isaac Asimov. Holy Cannoli Batman—Janet and Isaac would have been fun to hang out with!
"Most of all to be a writer means to write whether there is any reward of not." Janet and Isaac Asimov
I loved writing this post! I 100%+ hope you enjoyed reading the post. 🙂 If you enjoyed what you read here, please share this with someone else. I greatly appreciate all shares of my blog. Also—I welcome your opinion. Please let me know what you like, and please let me know anything you didn't like. Do you have any writing or grammatical tips for me? This blog is for you, so I want to write for you at peak capacity!
I appreciate your readership! 🙂
What do you think? Please post your comments below.
Thanks for stopping by!


Similar Posts I've Written: