Social Business Enterprise (SBE)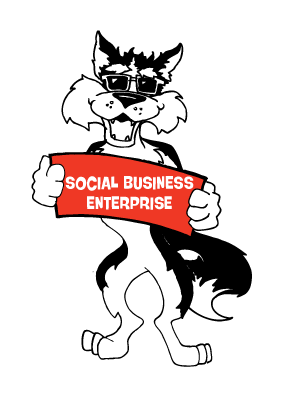 The Speaking Husky is a Social Business Enterprise.
What This Means
I will give 3% of my net sales to nonprofit organizations. I have a long list of nonprofit organizations that I will give to, and as a client you may choose which of these organizations I give 3% of what you pay me. Here's some more information about social business enterprise. If you choose to select the nonprofit I will give to, I will send you a receipt verifying that I made the contribution. As my business grows, my goal is to increase the 3% of net sales to…as much as I can afford to give. A one for one model like Toms uses would be great! (When they sell a pair of shoes, Toms gives one pair of shoes to a needy child. When Toms sells eyewear, the company donates a pair of prescription glasses, sight-saving surgery, or medical care to a needy person.) Do you have an idea how I can change my business model to a one for one model now? Please share that idea with me…immediately. 🙂
The Areas Where I Will Focus The Speaking Husky's Giving
Can I Give to a Group that is Not on One of Your Lists?
Unfortunately not. (If you live outside the USA, I will give to your country's chapter of one of these nonprofits though.) Selecting these groups was a major undertaking. I'm 100% certain that there are many other worthy nonprofits and I'm also sure that you can find a group that you will want to give to on one of my lists.
The Speaking Husky List of Nonprofits