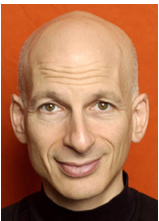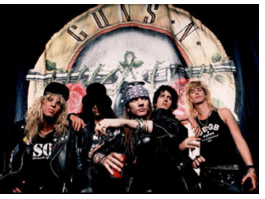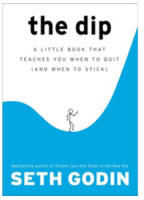 I have another business called Rock, Read, And Roam!. (The business is currently inactive.)  Before I founded The Speaking Husky, I had a blog for Rock, Read, And Roam!.  (R3)  This blog post is the most popular post from the R3 blog.
Oh! You're interested in public speaking and writing as much as you're interested in being dragged behind a car on a gravel road?  Don't worry—This post is for anyone, and I believe that the post can be applied to anything.
In 1986, while I was working for an investment company listening to rich stress puppies curse at me for costing them seven cents in their multi-million dollar accounts, the members of Guns N' Roses were enduring a different type of stress.
Between the time that the Appetite For Destruction lineup of GNR first plugged in their guitars in 1985, and the time that GNR released Appetite in 1987, the members of Guns N' Roses were pushing through what marketing author, Seth Godin, calls the Dip .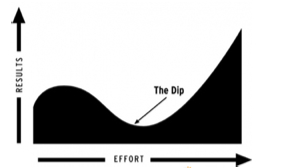 (Diagram from page 17 the Dip by Seth Godin)
In Brian Hiatt's excellent article in Rolling Stone magazine, bassist, Duff McKagan states, that the band knew there was a special chemistry from the first chord they slammed into at a Silver Lake studio—"There was something, and we all knew it," says McKagan. "We were only twenty years old, but we considered ourselves real veterans. It felt like, 'This is the band, this is it. This is what we've all been searching for.'"
Here are what I believe are the most relevant questions to ask based on McKagan's statement. 1. How many other LA based bands in the 1980's felt a chemistry equal to what Guns N' Roses felt on that timeless night in 1985? 2. Why did most of these bands fail to achieve success?
"Hard training, easy combat; easy training, hard combat" Marshal Suvorov, famous Russian General
"Desire is half of life; indifference is half of death." Kahil Gibran
I think that when presented with the 1985-1986 living conditions of the members of Guns N' Roses, most human beings would have quit the band in disgust and been on the first Greyhound out-of-town. Here is then GNR manager, Arnold Stiefelto's description of the house the band lived in," I almost fainted," says Stiefelto, whose name was on the lease. "It was Beneath the Planet of the Apes. It was Beyond the Valley of the Dolls. It was so beyond imagining. I couldn't stop laughing. The band had torn the toilets from the floor and thrown them out the window…There were half-eaten Whoppers with mold on the wrappers." But, the Gunners didn't quit, and didn't run home, because they understood the concept of the Dip.
A FEW THINGS THAT GUNS N' ROSES UNDERSTOOD ABOUT THE DIP (Quotes from Seth Godin)

1. "Quit the wrong stuff. Stick with the right stuff. Have the guts to do one or the other." (Guitarist, Slash, drummer, Steven Adler, and McKagan all quit a band called Road Crew. Singer, Axl Rose, and guitarist, Izzy Stradlin quit the group LA Guns.)
2. "…It's important for you to amplify the benefits of not quitting." According to Steven Adler, "We wanted to be like Aersomith, Kiss, Zeppelin, bands like that." As discussed above, GNR knew from their first practice that they had a high potential for success.

3. "In order to get through that Dip, you will need to quit everything else." (The members of Guns N' Roses quit everything else.)
A FEW QUESTIONS THAT WE CAN ALL ASK

1. Is there anything that I am passionate about enough to live in a home with no toilets, and half-eaten Whoppers with mold on the wrappers lying on the floor, while I am going through my Dip? If not, should I want something that passionately?

2. What is my Dip?

3. Are there some things I should quit today, so that I can work through my Dip?
Here are a couple of places that you can learn from Seth Godin—
The Dip is one of my best Amazon.com purchases. If I had intuitively grasped the lessons of that book as well as the members of Guns N' Roses, I would have avoided years of frustration. If you'd like to purchase the Dip or Guns N' Roses Appetite for Destruction, please click the images at the top of the page. (These are affiliate links.)
What is your Dip? Please leave your comments below, or contact me directly. My contact info is in the sidebar.
Thanks for stopping by!


{ 0 comments }