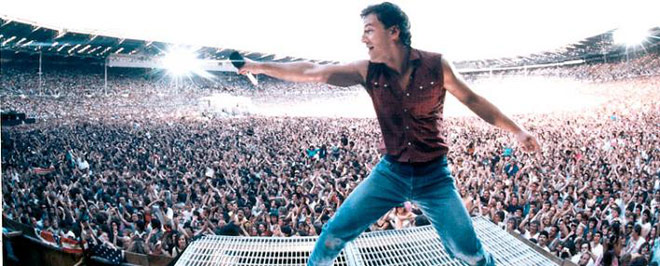 (For a brief period in 2009, I had an eclectic blog that focused mostly on music, but also discussed business, chronic medical conditions, and public speaking. This post was originally on that blog.)
A few minutes ago, I surfed by the official Springsteen site, to check out the bosses 2009 tour schedule. Surprise! He's not scheduled to play Huntsville, Alabama. Well, bonnaroo is close…
As I scrolled through the Springsteen site, I thought about a phrase that I have heard frequently: "I didn't really like Bruce Springsteen, but my (buddy, wife, husband, girlfriend, etc.) had an extra ticket, and after I saw Springsteen live, I loved him!
These sentiments about Bruce Springsteen, remind me of what I recently read about Senator Robert F. Kennedy in communication expert Bert Decker's excellent book, You've Got to be Believed to Be Heard. Decker says, "I have to confess that I wasn't a big RFK fan at first. But as I watched him-in closed door meetings, before the press, grabbing a few moments of rest, delivering his stump speech, shaking who know how many outstretched hands, I became intrigued with him…I'm convinced that if it were not for that bullet, the history of our nation would have been written very differently."
There are three communication lessons that we can learn from RFK and Springsteen:
Speak From The Heart
Tap Into Every Ounce Of Energy In Our Minds And Bodies
Smile
What is uttered from the heart alone, will win the hearts of others to your own. – Johann Wolfgang von Goethe
1. Speak From The Heart
On April 4, 1968,Robert F. Kennedy stood in the back of a flatbed truck, and gave what many public speaking experts consider one of the greatest speeches of the 20th century from the back of a flatbed truck. Kennedy had received word a few hours earlier that Dr. Martin Luther King Jr. had been assassinated. Against the advice of everyone, Kennedy decided to go ahead and give a planned speech in a predominantly African American neighborhood at the corner of Seventeenth and Broadway in Indianapolis, Indiana.
According to author Thurston Clarke, as RFK climbed onto the back of the truck, his aide, Frank Mankiewicz, handed him a sheet of paper with some ideas for the speech. Kennedy immediately put the notes in his pocket without looking at them. Clarke says, "After asking the dignitaries on the platform not to introduce him, he (RFK) stood alone at the platform, looking drawn and shaken." Moments later, in a voice close to breaking, and with tears welling up his eyes, Kennedy delivered his impromptu speech. Kennedy gave the crowd the news that Dr. King had been assassinated, and then spoke as only he could about a life that has been cut short by a political assassination – "For those of you who are black and are tempted to be filled with hatred and mistrust of the injustice of such an act, against all white people, I would only say that I can also feel in my own heart the same kind of feeling. I had a member of my family killed, but he was killed by a white man. But, we have to make an effort in the United States, we have to make an effort to understand, to get beyond these rather difficult times." RFK never spoke about the death of his brother, but he spoke from the heart about his brother's assassination that night. There were 119 riots in the United States on April 4, 1968 but there were no riots in Indianapolis.
When Bruce Springsteen introduces "The River", he begins with a story about his relationship with his father. The cultural divide of the 1960's is brought to life by Springsteen's words. The boss draws the story so clearly that the scene is as vivid as a Scorsese movie. When the Springsteen story concludes with his father's acceptance, the crowd cheers for a father and son's restored relationship.
The examples above are what I call "Life Preparation Speeches". Both Kennedy and Springsteen's stories are from very personal experiences, that each thought about for years before sharing his emotions in front of an audience. Each of us has a personal story that can move a crowd if spoken from our hearts.
We should ask – 1. "What is the message that my life has been preparing me to give?"
"Failure is more frequently from want of energy than want of capital." – Daniel Webster
2. Tap Into Every Ounce Of Energy In Our Minds And Bodies
"As our camera's rolled, I thought, Look at him! There's no way he can make it! He can barely stand on his feet! But, as soon as he was introduced, he seemed to spring forward, evoking the image of a runner sprinting from the blocks or a fighter coming out of his corner…" – Author, Bert Decker, speaking about Senator Robert F. Kennedy
"I witnessed a band who took to the stage like twenty-year-old kids hungry for their shot at the title. They jumped in the ring and gave it their all. I've rarely witnessed such ambition, fortitude, and pure unbridled elation on display." – Writer, Anthony Kuzminski, discussing a recent Bruce Springsteen and the E Street Band Show
Do you believe you have energy when you speak? Are you sure you do? There is only one way to find out – videotape yourself making a presentation. After watching the video, you will find out that like "Goldilocks and the Three Bears," your energy level is either to cold, to hot, or "just right". In videos of Bruce Springsteen and the late Senator Kennedy, you will notice that both men often speak in a conversational style. But… it is a conversational voice filled with passion and energy. I have been advised by friends who are also experienced speakers, that I am at my best when I speak with passion in a conversational style. Until I began videotaping my presentations, I did not know what my friends were talking about.
We should ask – 2. "Will I pay the price of a video camera and videotape to become a great speaker?"
"Every time you smile at someone, it is an action of love, a gift to that person, a beautiful thing." – Mother Teresa
3. Smile
How many pictures have you seen of Senator Robert F. Kennedy and Bruce Springsteen smiling? I have seen many pictures of them smiling! Speech coach, Bert Decker, says that the smile is one top six ways to improve your personal impact. (If you can't tell yet, I highly recommend Bert's book, You've Got To Be Believed To Be Heard Is smiling easy or what? Do I smile? Do you smile? There is one way to know… see question two – after reading question two, please begin videotaping yourself when you make a presentation.
When we smile, we should give everyone a big smile from the heart! When I'm not in the mood to smile, thinking about something happy, is normally enough to get a smile out. I have found that it helps my presentations if I arrive at the site of my speech a few minutes early to find out who the "smilers" are. Focusing on the smilers in an audience helps me smile, and it gives me extra energy during my presentation.
We should ask – 3. "Do I smile enough during my presentations?
What other communication lessons have you learned from Bruce Springsteen and Robert F. Kennedy? Please leave your comments below, or contact me directly. My contact info is in the sidebar.
Thanks for stopping by! Bill
Similar Posts I've Written: