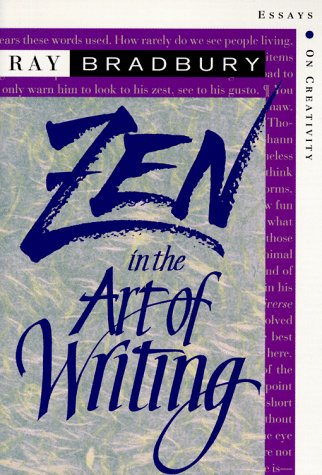 "Quantity gives experience. From experience alone can quality come."
"There is no failure unless one stops."
Ray Bradbury
Tuesday, 6 PM, May 10th 2011, I am having a minor colitis flare-up and am feeling a bit drained. The light on the green ridge that I look at through my office window each day is grinning like the ever present smiley face icons of my childhood. The ridge, unlike me, does not suffer from the PTSD and survivor's guilt that were left in my body by the hell hound tornados of April 27, 2011.
Was the last Melvillian? Was the last paragraph Conradian? Was the last paragraph Tolkienesque? No, no, and no! The last paragraph was me applying some of the principals of Ray Bradbury's Zen in the Art of Writing— Sit down at your desk and write each day with no judgement. In time, your fingers will develop brains that write the words for you. I hope that my fingers guide this summary of Bradbury's book as smoothly as Jimi Hendrix's fingers guided him as he played The Star Spangled banner as the sun rose at Woodstock.
Titles
Chattanooga Charlie Meets Dirty Harry
The Fourth of July that the Unicorns Left the Castle
Jesus, Buddha, and Newman's Green Tea
Cam Newton Meets the Cigarette Smoking Man
Those titles are meaningless gibberish? Maybe, but they're also me practicing a Bradbury writing technique. Here's what the great RB said,
"…I began to make lists of titles, to put down long lines of nouns. These lists were the provocations, finally, that caused my better stuff to surface. I was feeling my way toward being honest, hidden under the trapdoor on the top of my skull."
Practice Makes Ray Bradbury (and you and me too!)
My favorite practice quote is not "practice makes perfect." My favorite quote about practice is "practice makes improvement." (Les Brown) Ray Bradbury made improvement by writing a thousand words a day. He developed this method of improvement when he was only 12 years old! (A thousand words is roughly equivalent to four double spaced pages using a 12 point font.)
Mr. Bradbury, may I count undergraduate school term papers toward my thousand words a day? Do graduate school papers count? Do emails, Facebook posts, and tweets count? They don't count? Then, I need to keep studying and writing.
Ray stresses a very specific form of writing practice. To paraphrase Mr. Bradbury, our goal as writers is to practice writing as the only person we can be—Ourselves! Ray discusses writing with our true voice throughout Zen in the Art of Writing, and I believe this quote gives a decent summary of his thought on working with our unique genius, "He must ask himself, 'What do I really think of the world, what do I love, fear, hate?' and begin to write it on paper."
You want to improve your writing skills, and you don't want to read this book? Wow! Well, if you don't get anything else out of Mr. Bradbury's book, it will give you at least three years of awesome quotes to tweet on Twitter. You still aren't convinced? Below, are four great thoughts from the book that may change you mind.
Four great thoughts from Zen in the Art of Writing

"Find a character, like yourself, who will want something, with all his heart. Give him running orders. Shoot him off. Then follow as fast as you can go. The character, in his great love, or hate, will rush you through to the end of the story."
"Who are your friends? Do they believe in you? Or do they stunt your growth with ridicule and disbelief? If the latter, you haven't friends. Go find some."
"Read those authors who write the way you hope to write, those who think the way you would like to think. But also read those who do not think as you think or write as you want to write, and so be stimulated in directions you might not take for many years. Here again, don't let the snobbery of others prevent you from reading Kipling, say, while no one else is reading him."
"There is only one type of story in the world. Your story. If you write your story it could possibly sell to any magazine."
What do you think? Please comment below.
Thanks for stopping by!


Similar Posts I've Written: