Speaking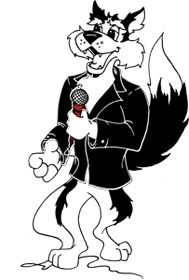 "We don't have to be on the same page to work together, but we probably should be in the same book."
– a Customer at Olde Towne Coffee Shoppe Huntsville, Alabama
(Please note: While you are on my website, I hope that you will read this page. The information here describes my philosophy of making a speech for your school, business, or organization. Unfortunately, I am on a hiatus from doing paid speaking engagements. Well… if you're paying me six figures, let's talk. 🙂 )
How I Help Your School, Business, or Organization Through Speaking
I know that few people in our society put an emphasis on developing their skills as speakers. How do I know this?  Because the parking lot of the church where my Toastmasters group meets has 100's of cars in it on Sunday mornings and has about 10 cars in it when my Toastmasters club meets on Tuesdays.  As a friend of mine once said, "Bill do you know the percentage of the world population that attends a Toastmasters meeting each week? Me, 'no.'  Answer— A scintilla, and a scintilla is very small thing!"  (I hope you don't think that I am implying that Toastmasters is more important than spiritual development.  I'm not!)
Why do so few people spend time developing their communication skills? I believe that the top reasons that people don't work on developing their public speaking skills are:
Fear of speaking publicly

Misconception about the time that it will take to become a better speaker
My presentations can help with both. I present the basics of public speaking in a humorous way that involves the group that I am speaking with. Each speech I make about public speaking will cover some of the basics of making a speech.  Every presentation I make about public speaking will also include some tips on overcoming the fear of public speaking/stage fright.   My presentations are designed to meet the needs of your organization, and I can make my main points in as little as seven and a half minutes.  (If you would like a more detailed presentation, I will be glad to speak for an hour or more.)  At the end of my speech, I will provide all members of your group with a handout of the main points of my speech.
Do some of your employees or group members live with ADHD? If so, I can make a humorous presentation about what my life is like living with Attention Deficit Hyperactivity Disorder (ADHD).  The speech will include:  A description of ways that I have learned to maintain a healthy emotional outlook about life and ways that I have learned to increase my personal productivity. Disclaimer — While my emotional outlook is greatly improved, it isn't always 100% perfect.  Also, I believe that ADHD should be harnessed rather than "put in remission."  In my opinion, this "illness" should be called Attention Deficit Creativity Condition.
Why I Believe That You Should Consider Working With Me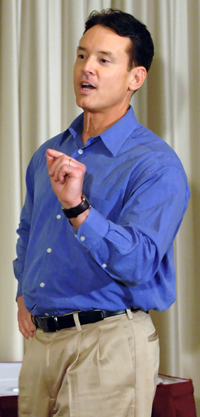 You know your business, group, or school. Are the members of your organization "normal?"  Then why subject them to listening to a "normal" speaker?  If you believe that the members of your group will like the flavor of my website, then odds are very good that they will like the flavor of my presentations.
The Resume Stuff — In 2005, I was initially selected among 250 (out of 2000) applicants to receive training to be a Making It Count Speaker for Monster.com.  I have attended conferences for aspiring speakers.  I have earned one of the highest awards in Toastmasters International, the Advanced Communicator Silver Award.  My speaking experience includes speaking for a variety of groups and organizations including: The Audubon Society, The Optimist Club, The Mom's Club of Southeast Huntsville, and the National Association of Retired Federal Workers. The groups I have spoken for have ranged in size from two or three people to two or three hundred people.
Who I Work With
Do members of your business, your school, or your organization need a humorous but practical crash course on making speeches or on overcoming the fear of making speeches?
Would it benefit the members of your business, your school, or your organization to hear a humorous but informative speech about living with chronic medical conditions?
Do you just want the speaking dude with the humorous dog website to stand up in front of your group and say a few words?
Whether your group has five members or many members, I will work hard to deliver a well researched speech tailored to the needs of your organization. By the way, this limited time free speech is the story of my first speech.  The speech uses much humor and entertainment to cover the basics of public speaking.
Preview of Coming Attractions (Speeches that I'm Currently Developing)
Most years, weeks, days, minutes, seconds, and nano-seconds, I am developing new speeches. See what I'm working on now.
Working Together
Step I. Are we right for each other?
I'd love to speak for your group our organization! Let's speak a little by phone, online, or both to make sure that we are a good fit for each other first though. To begin Step I, please complete the form on my contact page. If we decide that I will speak for your group, I will send you a detailed questionnaire to complete.
Bonus—The Speaking Husky is a Social Business Enterprise—I will donate three percent of what you pay me to a nonprofit organization that you choose. 🙂
Step II. You make a $799.00 deposit as a commitment to the work that we will do together.
When your deposit is received, I will begin working on a speech for your group.  For more information on my pricing and guarantee, please go right here.
This Will Work Best If…
Do you have a positive/altruistic message to take to the world? Would you like a positive/altruistic speech given to your organization? As cliched as it might sound, my goal is to take a positive message to the world and to help others with positive messages take their messages to the world. I know, not everyone agrees about what is positive and what is not. That's why we will talk by phone before we work together.
Hey! This Will Really Help Me Perform Better For You
I can give a customized speech for your group with little notice, but this is not how I work best. Hopefully, you will be just as happy with the last minute work I do, but I don't think I will be. So, if possible, please begin your work with me as soon as you know you want to work with me. (A few weeks notice would be great, even more notice would be greater.) Thanks!