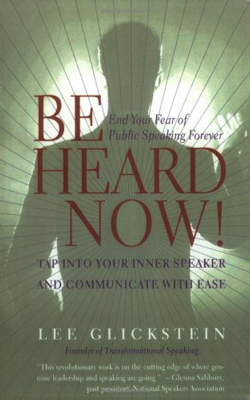 It takes courage to grow up and become who you really are. E. E. Cummings
The Most Important Concepts in This Book in a Few Paragraphs
Lee Glickstein who is an author and the founder of Speaking Circles International, says that to become effective public speakers we should—Join a public speaking group where the other members of our group dig for our weaknesses and shred our psyches apart like Hannibal Lecter did to Clarice Starling in the Academy Award winning film Silence of the Lambs. Am I kidding? A simple yes won't do, so hell yes I'm kidding! 🙂 What Mr. Glickstein believes is further from Lecter's approach than planet Earth is from planet Pluto. (Sorry astronomers, I will always believe that Pluto is a planet.)
What qualifies Mr. Glickstein to say with authority that we should resist any suicidal urges we might have to attend "The Hannibal Lecter School of Public Speaking?"  As founder of Speaking Circles International, Glickstein knows a thing or 797 about public speaking.   
Lee believes that when we speak, many of us are like butterflies who believe that they are still caterpillars.  Bill, what in the name of Johnny Cash and Chuck Berry do you mean by that?  Glickstein thinks that we may forget that we are okay as we are now.  He believes that many of us are so focused on projecting confidence and power that we forget the one thing that we have to share—ourselves.  To paraphrase what Paul McCartney sang in The Beatles' song "Eleanor Rigby," Mr. Glickstein thinks that as public speakers we may "put on the mask that we keep in the jar by the door."
Be Heard Now! says that the key to permanently leaving our masks in the jar by the door when we give speeches is to practice speaking in front of other people in an environment that supports us like the limestone blocks that support The Great Pyramid.   Glickstein states that, "Again and again, we saw that a few minutes of focused support could dissolve a lifetime of holding back with groups…"  Wow! 🙂  
This excellent book teaches that speaking is about creating a relationship with our audience and not about performing for our audience.  Instant rapport and genuine charisma come when we make listening, not speaking, our priority.  To state Mr. Glickstein's point ultra-succinctly—When we are ourselves, it frees our audiences.  As the people we are speaking with sense our authenticity, they relax into their own authenticity.  As we stand before our audiences and converse with each member of the audience, and we show that we care about our audience, then our audience will begin to care about what we are talking about.
I think that if you want to become a better speaker, Lee Glickstein's book might be worth the value of a winning lottery ticket.  If you don't care about being a better speaker, please take your lottery winnings and retire to the beach or mountains.  If you care about being a better speaker, please consider buying Mr. Glickstein's book at your favorite online or retail bookstore.  The great news is that if you care about public speaking, you can buy the book for $16.30 and still retire on your lottery winnings. 🙂
Three Cool Quotes from "Be Heard Now!" that You Need Before You Own the Book
"…Humor is not about making people laugh. Humor is about letting people laugh."
"Nervousness is just bottled up excitement."
"If people didn't need to hear your message you wouldn't be moved to share it."
Here are a Couple of Other Places that You can Learn More from Lee Glickstein:
Website—Speaking Circles Worldwide
What do you think? Please post your comments below.
Thanks for stopping by!


Similar Posts I've Written: