The Speaking Husky Cycle of Excellence Example The Beatles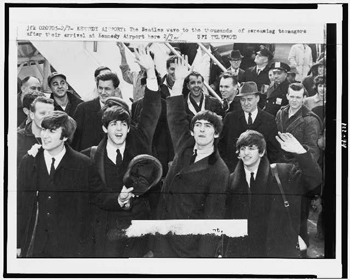 Photograph, United Press International. (1964)
Image source—http://publicdomainclip-art.blogspot.com
"Practice isn't the thing you do once you're good. It's the thing you do that makes you good." Malcolm Gladwell
A Very Abridged Example of The Speaking Husky Cycle of Excellence,
Starring: John Lennon, Paul McCartney, George Harrison, and Ringo Starr
(Beatles example is extremely shortened and extremely simplified.)
Research — Paul McCartney hears that this cool guy, John Lennon, loves Rock n' Roll as much he does… Wow!
Analyze — While watching The Quarrymen play a church social at St. Peter's Church Liverpool on July 6, 1957, Paul decides he wants to join the band. After the Quarrymen's first set, Paul's friend, Ivan Vaughn, introduces him to John. According to John's friend Colin Hanton, "It was clear that once Ivan and Paul got around to John, there was a lot of 'checking out' being done." (Source: The Beatles by Bob Spitz). Paul, sensing John's silent challenge, plays a version of Eddie Cochran's 20 Flight Rock that sounds like Robert Johnson meets Buddy Holly at a juke joint in Clarksdale, Mississippi. (Paul "conveniently" brought his guitar with him.)
Synthesize — John and Paul spend part of every day together discussing music. They develop an intuitive understanding of each other. Paul teaches John how to "properly" play the guitar. Some of John's artistic "attitude" rubs off on Paul. Within a few months, they are completing each others sentences.
Rehearse and edit — Paul convinces John that George should be a member of the Quarrymen. John and Paul discover that Buddy Holly writes his own songs and are inspired by Holly to write their first songs. (Many of the first Beatles' songs were written in the McCartney family parlor.)
Present — The Quarrymen become The Beatles. The group is now, John, Paul, George, and Pete Best (Drums). The band plays gigs together in Liverpool and becomes a good local group. After they play 270 nights in Hamburg, Germany, they become a great group!
Feedback — The Beatles received feedback from each other and from those around them from the moment that John and Paul began practicing together in the McCartney family parlor. One crucial piece of feedback came from producer George Martin. After Martin's first recording sessions sessions with The Beatles, he suggested to John, Paul, George, and Brian Epstein that they replace drummer Pete Best. Brian Epstein dismisses Pete, and Ringo joins the Beatles.
Repeat — The Beatles follow the research, analyze, synthesize, rehearse and edit, present, and feedback formula until they break up in 1970.