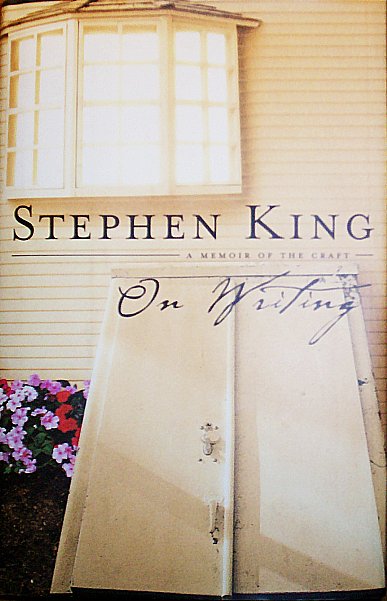 "Books are uniquely portable magic."  Stephen King
An Ultra-Abridged Version of Stephen King's On Writing
The two things that Stephen King says will most help us become better writers are as surprising as the New York Yankees taking the field wearing pinstripes.
Sorry Mr. King, but I liked that analogy better than a my Red Sox analogy. (If you've been living on one of the 63 moons of Jupiter and missed this—Stephen King is a Boston Red Sox fan.) Are you ready for these "surprises" from The Master of Horror? Dr. Dre, please lay down some beats to set the tone. Thanks! Stephen King says that the two most important things we can do to improve as writers are in his words, "If you want to be a writer you must do two things above all others: Read a lot and write a lot." You may now skip the rest of this post. Please…don't do that though! 🙂
Some of the Most Important Concepts of this Book in a Few Paragraphs
While the King quote in the last paragraph may give us an ultra-abridged version of his book, it's not the only valuable information in
"On Writing"
or I wouldn't have written this post. King's book is a great read, filled with his personal history, his history as a writer, his fabulous humor, and his tips to become a better writer.  
I once believed that to improve as a writer, I should read every book about writing that I could fit in a triple sized Costco or Target. Stephen King probably saved me much time, and many dollars spent on book storage space. According to Mr. King, there is one book about writing worth buying—The Elements of Style by William Strunk Jr. and E.B. White. Mr. King, does this mean that you believe that On Writing is not a good read? LOL!
In the Christmas classic, Rudolph the Red Nosed Reindeer, there is an Island of Misfit Toys. While King doesn't discuss whether there is an Island of Misfit Toys, he is adamant that there is no Island of the Buried Bestsellers.
Mr. King thinks that the creativity for great writing occurs when two previously unrelated ideas come together. King's belief about creativity reminds me of one of my favorite quotes about Rock N' Roll—"Rock N' Roll was created by a train wreck of rhythm and blues, gospel, country & western, and folk music." (Please let me know, if you know who first said that.)
Are you a struggling writer, musician, painter, or other type of artist? Has anyone ever told you that, "You are wasting your God-given talent." If you are an artist, King guarantees that someone will say something like that to you. Have the comments of others, or the comments of the 797 demons in your brain ever made you want to quit your artistic endeavors? (I know that my demons have caused me to question what I'm doing.) My paraphrase of what King says about quitting our artistic work because of the opinions of others is—The world is full of people who want the same thing—to see the world as they do or to at least be quiet about what you see that's different.
King says that quitting our work because the work is hard, because of what others think, what we think, or because the work is just hard, is as bad an idea as dropping a few scoops of vanilla bean ice cream into a mug of Guinness Extra Stout and then drinking the concoction.
Here Are Three Cool Quotes from Stephen King's On Writing That You Need Before You Own The Book—
"Life isn't a support system for art. It's the other way around."
"The main tools in a writer's toolbox are vocabulary and grammar."
"You must begin as your own advocate, which means reading the magazines that publish the kind of stuff you write."
Here are a Couple of Other Places that You can Learn More from Stephen King:
The Official Website of Stephen King
What do you think? Please post your comments below.
Thanks for stopping by!


Similar Posts I've Written: