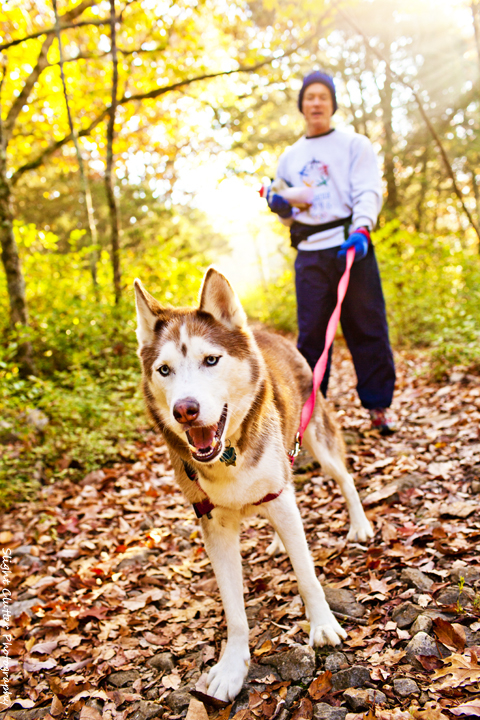 Photograph, Katya Horner, Slight Clutter Photography. (2011)
"If the doors of perception were cleansed, everything would appear as it is—infinite."
William Blake
"If the doors of perception were cleansed, audiences would appear as they are—humans not snarling wolves."
Bill Boulton
(The video for—The Speaking Husky Teaches Video Series, How to Overcome the Fear of Public Speaking—Part One, is at the bottom of the post.)
The Marathon Woman Who Cried Wolf
A few years ago, my wife Emily had just returned from her normal 37 mile morning run, wearing her normal $893.00 running clothes. (Yes—that's humor. Emily doesn't run a distance greater than a marathon everyday, and thank goodness her running clothes don't cost $893.00. Close to $893.00, maybe… 🙂 ) She was ready to open our front door, when she heard not The Deathly Hallows (Part I or II), but the Deathly Howling!
Emily saw a wolf, and began screaming for help! (For a more detailed version of this story, please go to the middle of this page right here.) The "wolf" was actually a Siberian Husky, and I loved the "wolf" the first time I met him! Emily liked "the wolf" the third of fourth time she met him… We adopted the Siberian Husky, named him Kodiak or Cody for short, and he sleeps at the foot of our bed each night.
When many of us stand up to make a presentation, we are like my wife Emily was the first time she met our beloved dog Cody. We see snarling wolves when what we are looking at are human beings who want to play! Play in this context, means receiving a useful message that's easy to understand. (It's a bonus if it's entertaining too, but it doesn't have to be.)
The Foundation of a Public Speaking Dream House
Here's what we have been conditioned to think about when we hear the phrase public speaking:
1. Researching our audience. 2. Researching our topic. 3. Rehearsing our speech. 4. Making eye contact, etc. when we deliver our speech. All these things are great! They also will not help us if our anxiety level is higher than all the hippies living in Haight-Ashbury in 1967 combined. If we are that afraid, we won't give our speech anyway, so all those niceties like researching our audience are meaningless. This is why I started The Speaking Husky Teaches Series with Overcoming the Fear of Public Speaking.
Most of us have some anxiety about making presentations, and some of us have fears of making speeches that are strong enough to make our lives uncomfortable. When our favorite cup of takeout tea or coffee is tipped over without a lid, the spilled liquid rapidly flows over everything in its path. I don't know about you, but if I'm not careful this makes me frustrated and miserable fast! Like spilled tea, coffee, or spilled anything, unchecked public speaking anxiety can rapidly spread throughout our lives. Some of us will turn down speaking for community groups, speaking for church groups, or even consider changing jobs if our current job requires us to make a speech!
For those of us who have public speaking anxiety, learning to use our anxiety as fuel to make awesome presentations is the solid foundation that we can use to build our public speaking dream homes on.
This business was founded by our dog Kodiak. It was! No Cody, no The Speaking Husky SM. Want to hear me give some tips on overcoming the fear of speaking and speak about how Cody came into our lives? Watch the video then! 🙂
(If you only want to watch the part of the video about Cody, please watch from about 5:40 to about 7:30.)
I hope that Part One of The Speaking Husky Teaches Series, How to Overcome the Fear of Public Speaking, helps you begin building the foundation of your public speaking dream home. If you've benefited from this post or this video, please consider sharing them with someone else.
Thanks for your support! 🙂 Thanks for stopping by!


Similar Posts I've Written: