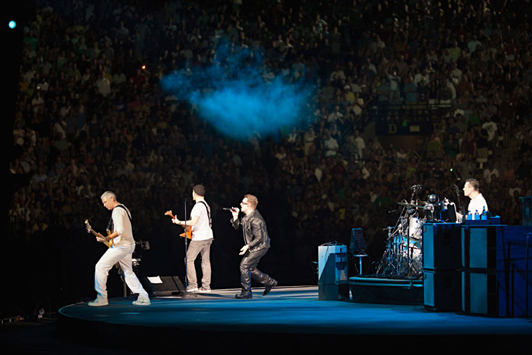 Photograph, Jon Erickson/BlueShoe Nashville. (2011)
Image source—http://www.blueshoenashville.com/u2nashville.html
"It's not about guitar, bass, drums, or voice, it's about you, me, and what we do here."
Bono, June 25, 1983 during U2's performance at The Atlanta Civic Center
Why I went to See U2
I went to see U2 in Nashville on July 2, 2011 for at least five reasons: 1. My wife gave me this as a birthday present! 2. My second favorite concert ever is U2, June 25, 1983 at the Atlanta Civic Center. (Note—I was only three years old when I saw U2 in 1983. Well, maybe I acted like a three-year old when I saw them in 1983. 🙂 I do know that it was a great concert!) 3. I wanted to rock! 4. I wanted a peak experience. (I had one at the U2 show in 1983, why not have another peak experience at a U2 concert in 2011?) 5. I wanted to become a better public speaker. U2 lead singer, Bono, is a master communicator and I was there to study public speaking. (Am I this big of a public speaking nerd? Lucky you, I am.)
Since The Speaking Husky Blog doesn't focus on concert reviews, I'm going to resist the urge to review on a scale of 1-10 how much each song rocked! Those of you who can't stand Bono/U2, please hang in there. If you want to learn more about being a more effective communicator, this post is still for you. Watching the band perform, I was both learning and remembering what I already knew about Bono the great communicator.
I BELIEVE THERE ARE MORE THAN FOUR COMMUNICATION LESSONS WE CAN LEARN FROM A U2 CONCERT. MY TIME FOR THIS POST IS LIMITED TODAY, SO I'M STICKING WITH FOUR LESSONS THOUGH. 🙂
Four Public Speaking Lessons From U2's July 2, 2011 Show
1. You have public speaking anxiety? I have public speaking anxiety? So what! Let's focus on channeling that anxiety into helping us deliver our valuable messages to our audiences.
2. We should be aware of and utilize our gestures.
3. Let's make our speeches personal! Let's name check, and build rapport with our audiences. Include everyone. Don't distinguish between the famous or non-famous.
4. Be willing to improvise. Improvisation can create magic when we make presentations.
I. Speech Anxiety—Let's Use it for Energy!
In speaker Scott Berkun's excellent book, Confessions of a Public Speaker, Berkun says this about Bono—"Bono, of U2, claims to get nervous the morning of every one of the thousands of shows he's performed." Bono is anxious in front of an audience? He doesn't appear anxious. So, if he's nervous the morning of the show, how does he take the stage that evening? I think he believes in the power of the band's music and the power of the band's message. At an early age, Bono said he "was greatly influenced by Christianity and Punk Rock." I think, I could see both influences still at work in Nashville. From my seat in Vanderbilt Stadium, it looked like Bono's desire to make the world a better place for everyone and to help the poorest of the poor turned the morning nerves into raw energy!
Speaking of helping the world's most destitute people, Bono and his wife, Ali, use social entrepreneurship to help those who are most in need. Here's a little about their company Edun.  If you contact me with your thoughts on social entrepreneurship, I might speak as much as Bono! Please comment below this post, or contact me right here. Want more? Here's a Google search for social entrepreneur.
II. Gestures—Let's be Aware of Them and Use Them for Impact
Bono's gestures were very natural. He varied his gestures from wide sweeping motions that took in the entire audience, to minute gestures to make a point. Since I don't have thousands of people posting videos of me on YouTube yet, I video record all my speeches to see what my gestures look like. Video has helped me improve my presentations, and I am confident that video will help you improve your speeches too.
III. Build Rapport With the Audience
I've seen U2 live five times in four cities. Wherever U2 is playing, Bono focuses on that city. He talks about what's going on in that city, he speaks about his own experiences in that city, and he name checks people he knows in that city. In Nashville, he mentioned that former Tennessee Republican U.S. Senator and One.org supporter, Dr. Bill Frist, was in the audience. He also spoke about the late Johnny and June Cash and his friendship with them. Bono didn't say anything about this from the stage in Nashville, but he was friends with both the late conservative icon Jesse Helms and the late liberal icon Ted Kennedy. What I witnessed at the concert though was the rapport building skills that made those diverse friendships possible.
Bono and U2 don't limit themselves to the rich and famous though. During the song "One," several members of the Nashville chapter of Amnesty International joined the group onstage. Before Saturday 7-2-2011, who had heard of Tattoo Dan or Adam Bevell? (Tattoo Dan joined U2 onstage for "I Will Follow." Adam Bevell was on stage for "All I Want Is You." There's more about Adam in point IV.)
This didn't happen in Nashville, but the example is so strong, that I wanted to include it. Thanks to Olgierd Swida's communication firm, Presentation Coaching, I discovered the video below of Bono building rapport with a crowd in Poland.
IV. Be Willing to Improvise
I've seen Bono ask crowds to pass flags to the stage, and I've seen him bring numerous audience members onstage in an impromptu or at least semi-impromptu way before. On July 2, 2011, Bono made one of the greatest improvisational decisions I've ever witnessed from a performer though!
The band had played "Moment of Surrender," the song that most of their recent shows had closed with. It looked like the concert was over. Seconds later though, Bono looked into the crowd near the stage and said, "Okay what do you want to play man?"
Unknown to me and 99.9% of the crowd at the concert, throughout the show, a blind man named Adam Bevell had been standing near the stage. Adam had been holding a sign that said, "Blind Guitar Player Wants to Play a Song for His Wife." He got his chance! Despite his admitted nervousness, Adam did an excellent job playing with U2 on his requested song, "All I Want Is You." Bono's inviting Adam Bevell onstage to play an unplanned song with U2, may be the coolest thing I've ever seen happen at a concert! The Huffington Post describes what happened in detail, right here.
If a picture paints 1,000 words, a video may paint 77,000 words about what witnessing what this was like! Below, is one of the many other videos of U2 playing with Adam Bevell available online.
Now, it's your turn. What have you learned about public speaking from a rock star? Are you a U2 fan, and just want to chat about U2? Have any tips for me as a writer? Please post your comments below.
Thanks for stopping by!


Similar Posts I've Written: